Welcome to my corner. I am Roxane, an intern at Victoria Grace Foundation.
I did a Master degree in Public Health at Liège University in Belgium.
This internship of a few months will allow me to put my knowledge in practice, and also help and be in contact with vulnerable people.
In this section, you will find informations and facts about Togo and mental illness. You will also discover more about care workers through interviews for examples.
So… Let's go! I take you with me on this wonderful journey!
If you want to read more about me or another member of the team, please check our profiles here.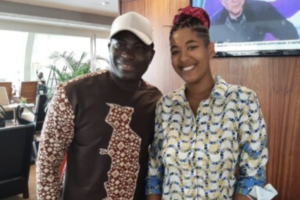 King Mensah : Supporter of Victoria Grace Foundation. Interview by Roxane MORNET written in October 2021 King Mensah and I On Wednesday 20 October, I had the chance to meet …